Throughout the years, Dan has had the chance to meet individuals from all walks of life - each with different goals and different motivating factors. Their hard work coupled with Dan's programming has profoundly impacted their lives. Read below to hear from some of Dan's clients and learn about their success stories.
---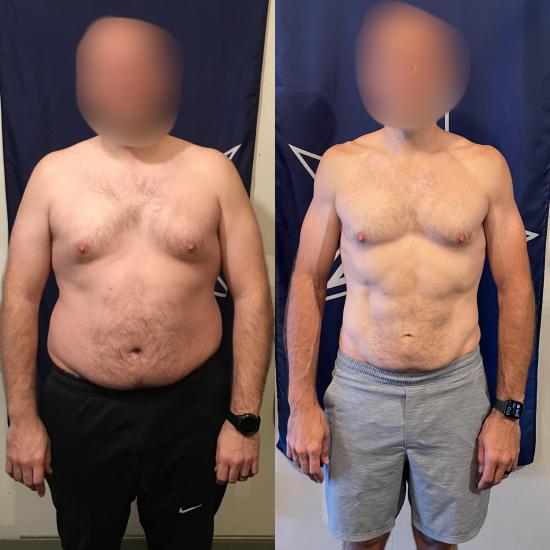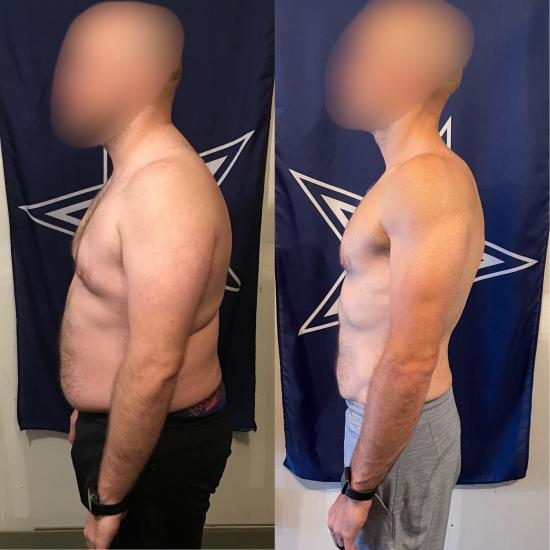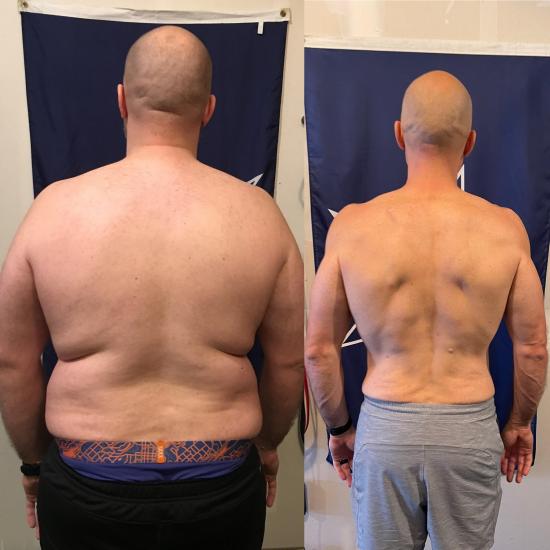 I worked with Dan for nearly two years with the goal of transformation, but also education. Dan helped me hit my goals by gaining lean muscle and losing fat. I lost over 80lbs, but that doesn't tell the true story of the muscle I have gained. Most importantly though Dan taught me how to take care of my body - exercise and health - and did it in a patient, thoughtful manner. Dan was all about safety and doing things the right way. Would recommend Dan as a trainer for anyone looking to take their health seriously.

Brian
---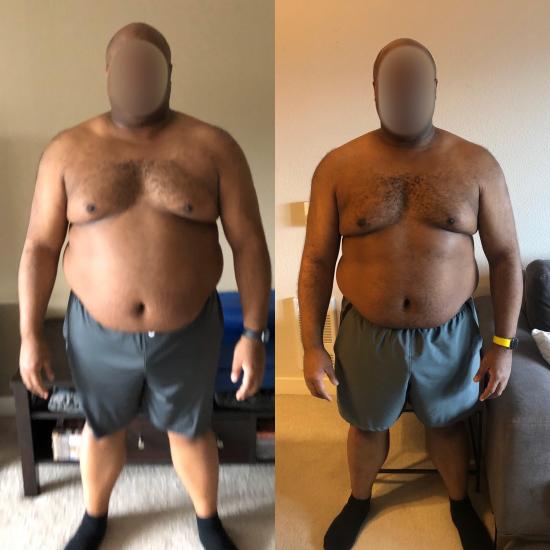 I have been training with Dan for just over a year and I couldn't be more thrilled with my results. Dan encourages and motivates me with every workout, and always includes variety & challenging new exercises in our sessions, which I really appreciate. His knowledge of health, fitness and nutrition, and his personalized coaching has helped me to lose over 50 lbs. and achieve a level of fitness that I thought was unattainable. I am stoked to continue working towards my fitness goals and to take them to the next level, and there is no doubt in my mind that with Coach Dan guiding the way, I will get there!

I have worked with other coaches in the past, but Dan stands out from the crowd. Like many other coaches, he is an expert in his field; however, Dan also possesses the intangible qualities that make all the difference for me. Simply put, he is one of the most dedicated, caring, generous, and positive people I have ever known. His boundless enthusiasm & unwavering belief in others is truly inspiring.

When we first started working together, I wasn't very confident in my ability to achieve my goals and expressed doubts to Dan. As he always does, he patiently listened, shared some encouraging words and said, "Jay – I believe in YOU! And I promise that one day, you'll get to a point when you believe in yourself as much if not more than I believe in you." I half-heartedly embraced his message, but admittedly, didn't truly grasp what he was saying at the time. Nevertheless, Dan's words never left my memory. It hasn't always been easy and we've hit a few road bumps along the way, but I'm proud to say that Dan's promise came true! As we've continued working together, my belief in myself has grown exponentially – thanks in no small part to Coach Dan.

Dan is the real deal, and I couldn't be grateful to have him as my coach on my health & wellness journey…you will be too!

Jason
---
I have been working with Danny for over 7 years. When I first started working with him he was working at Gold's Gym. Ever since he has gone out onto his own we have continued to work together, as a private client in the comfort of my own home. I had a terrible accident and got hurt on the job over 10 years ago. Some days the pain was so bad I couldn't even get out of bed. It was constantly debilitating. As I started working with Danny we were able to focus on my injuries and try to improve my activities of daily living. I will always have pain and not been able to work again. That being said, my pain level is half of what it used to be! I can do work around the house and still get out of bed the next day. Several years ago when I tried to do this I would have been immobilized by pain for over a week! I would highly recommend Danny to anyone who is living with pain and wants to get rid of it or decrease it and live a normal life again. He is always very passionate and prepared and you can tell he cares about all his clients health and well being. My journey will never be over and I will never be normal again but as long as I can continue seeing steady progress each and every year I will be a life long client.

David
---
I have been working with Danny for about 2 years and he has become my fitness guru!!! He really takes his times to get to know his clients, he knows how far to push without going too far and knows how to encourage without going over the top. I have lost over 30 lbs and am 2 dress sizes down and continuing to work on the best, healthiest me and I can't think of a better coach to help me to reach my goals!

Stacy
---
I worked with Dan Lippman twice (the first time in 2013-2014 and this next go-around from 2019 until the current day). Dan does several things comparatively well compared to a typical trainer. First, he spends time understanding goalz, limitations and injuries, and your overall Path (not just in fitness, but in life). Expect this for your first 30-60 minutes with him. Next, Dan is focused on prevention and pre-habilitation which implies that he wants to ensure proper form in the exercise but also proper diet, sleep, and meditation. Dan is also more flexible and creative compared to a typical trainer, and it shows this versatility and ability to navigate your obstacles (whether real or imagined). My Path has benefitted from Dan's contribution and I suspect that yours will as well. Worth the investment to give him a shot!

Kevin M.
---
I've worked with coach Dan since 2018. Over the years, I've worked with a number of different trainers, Dan clearly loves what he does and cares deeply for his clients. Dan not only focuses on functional training, he also stresses mindfulness, something that has helped me along my fitness journey. I highly recommend coach Dan for his expertise, motivational skills, and his ability to push you farther than you think you can go!

Dena
---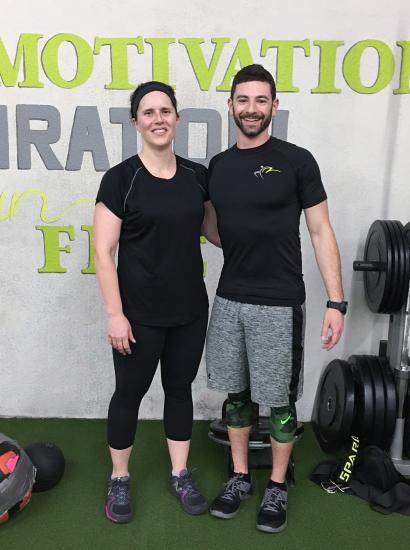 I have had many trainers over the last 20 years, including Danny when he worked at the Issaquah Gold's Gym many years ago. Even early in his career, Danny's passion for personal training and the well-being of his clients stood out. I was excited to learn that Danny was going into business for himself, because it presented an opportunity for me to train with him again.

Danny took the time to understand my fitness goals, strengths, and weaknesses. He is committed to my success and most importantly, Danny has the knowledge required to enable customized fitness programs. I am an avid cyclist, so it is important for me to have balance in my training to support cycling goals as well as to develop underutilized muscles. Danny has the ability to ensure this happens and the enthusiasm to make it fun.

Alecia
---
I have worked with Danny since January 2013. He's thoughtful in his approach as he understands the demands we put on our bodies. Danny's flexibility, as well as his focus on proper form, help ensure that each workout is beneficial and challenging.

I've had injuries from other activities that I thought would completely hinder my ability to meet my goals. Danny has kept me on track with kind words and advice, and helped me through recovery. Even when I miss a step or two of his post workout guidance, he reminds me of the key benefits for making those steps a habit. His positive attitude and constant praise make me want to push myself further.

Cavin
---
When I walked through the door, it had been several years since I had been in a gym, I was low on energy, and I needed to lose 40+ pounds. I felt that a trainer would help get me back in shape. I had the great luck of being paired with Danny Lippman! His skill, enthusiasm, and positivity were motivational! In the year and a half since, I have lost almost 30 pounds, my flexibility is markedly improved, I have high energy, and exercise, once a rarity, is now a part of my life nearly every day. I have a ways to go, but thanks to Danny, I am achieving my goals!

Steve, physician
---
I wanted to share my experience with my teacher Danny Lippman. From the day I began training with Danny in January 2009, he has worked hard to educate me, to keep me motivated and to encourage me!! My job keeps me on the road approximately 75% of the time. Danny continues to be understanding when I need to flex my workout sessions, and I really appreciate his willingness to work around my busy job and hectic travel schedule. In addition, I have had previous injuries so there are good days and not so good days with my back and neck. Danny is patient with me when my injuries flare up, and is willing to change the course for the day to accommodate my medical needs.

I realize that these are conditions that it difficult to work with a client long term, but Danny stays positive, keeps making me smile and laugh, and helps me get through each session with the same dedication as he does with any other client. It is easy to see that he takes his role very seriously. He takes the time to reach out and ensure that I am doing okay after tough sessions or when he knows I am not feeling well - and that means a lot to me as a client. His desire for me to successfully meet my goals coupled with his sincerity and dedication as a professional keeps me renewing my training sessions. I really want you to know that Danny does a great job!!

Danny truely goes above and beyond. Great customer service!

Lisa
---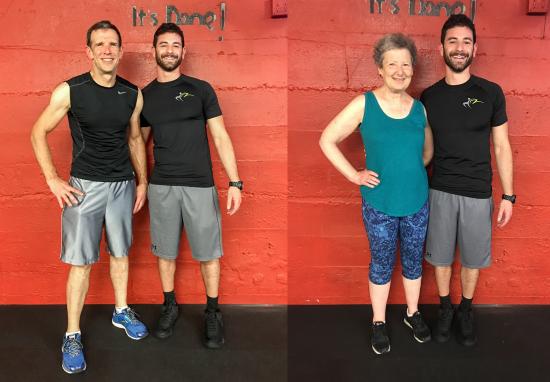 I have been training with Danny for over seven years. When I started working with him, I was an active cyclist and thought I was in good shape. Danny immediately began working with me on my posture and muscle groups neglected in years of cycling. He is extraordinarily attentive to form, and introduced me to exercises to help with balance and prevent injuries. Along the way I added 15 pounds of lean muscle. My wife was impressed with his approach and began training with Danny as well. She was recovering from a major surgery, and has been very impressed with Danny's ability to tailor workouts to her fitness level and alter routines to adapt to her needs on a day-to-day basis. We would highly recommend Danny to anyone looking for a knowledgeable, effective and personable trainer.

Marc and Kay
---
I have been working with Dan for over seven years now. After having open heart surgery I realized that I needed to start focusing on putting my health first. I had to take a brief hiatus two years ago after I had knee replacement surgery. Dan met with my physical therapist. He developed a game plan to implement when we resumed my training. I was very thankful for the extra effort he put in to prepare for our sessions. I am now back training and feeling much better. Dan is (very!) thorough in following up after our training sessions to see if I'm staying focused on my nutrition. I would recommend Dan to anyone who is looking to live a healthier and more fulfilling life.

Tim
---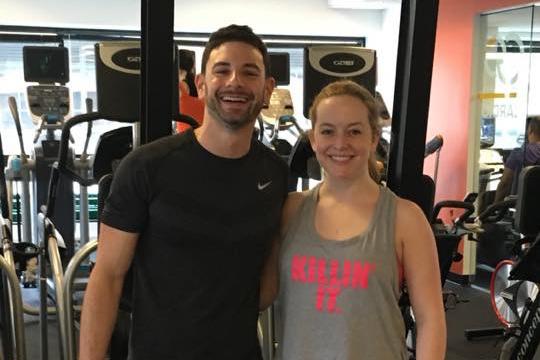 I started working with Danny the year before my wedding. He helped transform my arms so that I felt super confident at my wedding! He's a great trainer that is super focused on the correct form. He went above and beyond by teaching and helping with nutrition as well. His positivity is contagious, and he has made me stronger than I thought possible. I even came in for a workout on the morning of my wedding!! I would recommend him to anyone!!

Natalie
---
To whom it may Concern:


This letter is to recommend Danny Lippman, Personal trainer extraordinaire. I say that because over the last 18 months Danny has helped me lose 100 pounds - and keep it off. Having never lifted weights before, I began my training with Danny in January of 2008 as a completely neophyte. Keep in mind that I am a 50 year old full time working mother of three. I had plenty of distractions but Danny kept me on track.

I informed Danny of my weight loss goal and he planned out my entire weight loss/training schedule which included full nutrition lists, 6 days of cardio and alternating days of strength and conditioning. Danny was constantly mixing up my exercises to keep my body "surprised". I found Danny to be extremely organized and knowledgeable about fitness and nutrition.

Danny is passionate about his work as a trainer. He is a very friendly and outgoing person with excellent skills. He was patient with me as I learned to use the various gym equipment and his instructions were excellent. Never once did I hurt myself. He was extremely clear and precise about how to lift weights and use the machines safely. Danny was my biggest cheerleader.

I trained twice weekly with Danny and was at the gym on four other days during the week. As such, I had the unique opportunity to observe Danny interact and train other clients. It became very apparent that Danny is well respected by his peers as well as other members of the gym. I observed Danny training a wide variety of clients - from groups of teenagers for basketball, his other passion, to older persons. Danny also trained my sister and me in group sessions. He never wasted time and was excellent in multi tasking so that we both had an intense and enjoyable workout session.

I can not recommend Danny enough, he is a passionate young man who loves what he does. Danny is a powerful motivator, and I absolutely could not have reached my goals without his knowledge and assistance. My experience in losing weight and learning all aspects of fitness was so positive - all because of his dedication to my success. Given his passions for personal training, I have no doubt Danny will be successful in any endeavor he undertakes.

Melissa
---
It has been a blessing to have the opportunity to employ Danny Lippman with Chiles Sports Development.

Danny made himself available to CSD at a time when the demand and need of a good trainer was high. Quickly Danny demonstrated to me a high level of passion and dedication for the development and improved athletic performance for our clients. His leadership and ability to implement CSD's programs was evident to me. Athletes were responding to the program, but better yet they responded to a new face of leadership and consistently achieved their goals. Danny worked with me on a weekly basis for over a year. His infectious personality and knowledge to implement exercise routines in a safe and progressive manner gave my company the opportunity to grow!

Danny successfully implemented sports performance training at multiple venues including, Mercer Island HS, Issaquah HS, and Skyline HS performance programs. Staying consistent with his job description and understanding what makes CSD unique, Danny effectively duplicated the unique vision of CSD.

I wish the best for Danny with his career path. Anyone who is reading this letter of recommendation on behalf of Danny Lippman be advised you will be exposed to a passionate detailed individual that will work and provide for your best interests! Danny demonstrates dedication, commitment, passion, loyalty, vision and an unwavering confidence to help clients reach their goals and be the best they aspire to be.

Kevin